Meet our photoreactor with double-capacity:  The EvoluChem PhotoRedOx Duo™. It's the choice for the chemist who seeks higher reaction capacity and increased light intensity than found in the PhotoRedOx Box™.

This photoreactor with double-capacity leverages the same patented concept (US Patent #10,906,022) as the original PhotoRedOx Box™. PhotoRedOx Duo™ increases the reaction vials capacity to 16 vials (2, 4 or 8 ml) using 2 of the same vial holders as the PhotoRedOx Box™. Using the 2 blue LED setup allows to increase reaction rate of difficult reaction conditions.
Features
Several light source available
Photochemistry chamber to evenly distribute light
Flexible format vials
Magnetic stirring on standard stirring plate
Cooling by fan to maintain experiment at room temperature
Pre-designed array of catalysts and reagents available
For added efficiencies, check out the PhotoRedOx Flow Reactor Accessory
Benefits
Easy setup on a standard stirring plate

Perform up to 64 reaction conditions simultaneously

Individually sealed vials enable flexible study design

Save your substrate using low scale reaction conditions

Save time on optimization
PhotoRedOx Duo™
HCK1006-01-023
(US Patent #10,906,022)
Easy setup and compact design
Unique design to optimize light distribution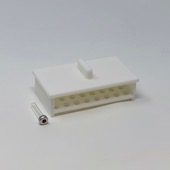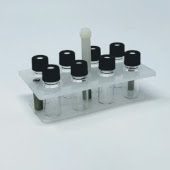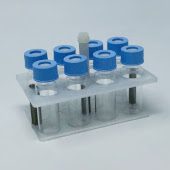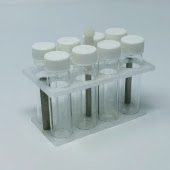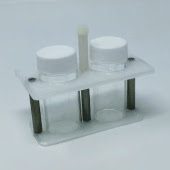 Reaction protocol
In duplicate in a 4-ml vial equipped with a teflon septa and 2×7 mm stir bar, were weighed 4-bromoacetophenone (4.95 mg, 25 µmol) and potassium benzyltrifluoroborate (4.50 mg, 25 µmol, 1 equiv.). To this vial was added a 1.0 ml solution in DMA containing NiCl2-dme (1.1 mg, 5 µmol, 0.1 mol %), dtbbpy (1.3 mg, 5 µmol, 0.1 mol %) and Ir(dF-CF3-ppy)2(dtbpy) (1.12 mg, 1 µmol, 0.02 mol %) followed by addition of 2,6-lutidine (17.5 µl, 150 µmol, 6 equiv.) . The solution was sparged with nitrogen via submerged needle for 5 minutes and vial was placed in EvoluChem™ photoreactor with blue Kessil 34W LED or reactor with two blue kessil 34W. Reaction time course was monitored at 0, 5, 15, 45, 120, 240, and 360 minutes.
Time to 95% conversion: Mono 360 min, Duo 45 min