Palladium Catalyzed Amination Kits
Description:
The Pd Catalyzed Amination Kits are ideal tools for the investigation of cross-coupling reaction conditions. This enables to conveniently screen multiple reaction conditions simultaneously using pre-weighed catalysts and reagents. The kit contains all reagents and supplies to perform the reaction conditions. We offer pre-selected arrays of precatalysts and salts or custom arrays depending on your needs.
Palladium catalyzed amination (Buchwald-Hartwig amination) can be performed using a wide variety of palladium sources, ligands, bases and solvents. We designed 2 kits using a combination of palladium precatalysts with either strong bases or weak bases.
Features:
Pd Source: Pd(OAc)2,Pd(dppf)2Cl2, Pd-Precatalysts…
Ligand: Phosphine derivatives, BrettPhos, RuPhos, XPhos…
Base: Na2O3, Cs2CO3, K2PO4, LHMDS, NaOtBu…
Solvent: Dioxane, nBuOH, tBuOH, Toluene, DMF, CH3CN…
Temperature: rt -> 120°C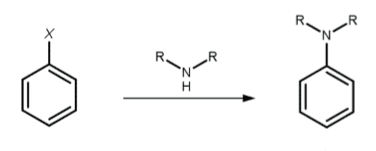 12 Palladium catalysts Kits Available
5 Pd Catalysts
3 Weak Bases Kit
HCK1004-01-002
BrettPhosG2
RuPhosG2
XPhosG2
tBuXPhosG3
tBuBrettG3
K2CO3
Cs2CO3
K3PO4
8 Pd Catalysts
3 Weak Bases Kit
HCK1004-01-004
BrettPhosG2
RuPhosG2
XPhosG2
tBuXPhosG3
tBuBrettG3
Pd2dba3/dppf
Pd(PtBu3)2
Pd(OAc)2/CataCXiumA
K2CO3
Cs2CO3
K3PO4
8 Pd Catalysts
3 Weak Bases Kits
HCK1004-01-006
BrettPhosG2
RuPhosG2
XPhosG2
tBuXPhosG3
tBuBrettG3
AmphosG3
AdBrettPhosG3
CataCXium® A G3
K2CO3
Cs2CO3
K3PO4
8 Pd Catalysts
4 Weak Bases Kit
HCK1004-01-007
BrettPhosG2
RuPhosG2
XPhosG2
tBuXPhosG3
tBuBrettG3
AmphosG3
AdBrettPhosG3
CataCXium® A G3
K2CO3
Cs2CO3
K3PO4
KOAc
8 Pd Catalysts
3 Weak Bases Kit
HCK1004-01-008
DavePhosG2
JackiePhosG2
JosiPhosG2
P(t-Bu)3PhosG4
PCy3G4
RockPhosG3
SPhosG3
XantPhosG3
K2CO3
Cs2CO3
K3PO4
8 Pd Catalysts
4 Weak Bases Kit
HCK1004-01-009
DavePhosG2
JackiePhosG2
JosiPhosG2
P(t-Bu)3PhosG4
PCy3G4
RockPhosG3
SPhosG3
XantPhosG3
K2CO3
Cs2CO3
K3PO4
KOAc
8 Pd Catalysts
3 Strong bases Kit
HCK1004-01-005
BrettPhosG2
RuPhosG2
XPhosG2
tBuXPhosG3
tBuBrettG3
Pd2dba3/dppf
Pd(PtBu3)2
Pd(OAc)2/CataCXiumA

LHMDS
NaOtBu
P2-Et
8 Pd Catalysts
2 Strong Bases Kit
HCK1004-01-014
BrettPhosG2
RuPhosG2
XPhosG2
tBuXPhosG3
tBuBrettG3
Pd2dba3/dppf
Pd(PtBu3)2
Pd(OAc)2/CataCXium®
LHMDS
NaOtBu
8 Pd Catalysts
2 Strong Bases Kit
HCK1004-01-010
BrettPhosG2
RuPhosG2
XPhosG2
tBuXPhosG3
tBuBrettG3
AmphosG3
AdBrettPhosG3
CataCXium® A G3
LHMDS
NaOtBu
8 Pd Catalysts
3 Strong Bases Kit
HCK1004-01-011
BrettPhosG2
RuPhosG2
XPhosG2
tBuXPhosG3
tBuBrettG3
AmphosG3
AdBrettPhosG3
CataCXium® A G3
LHMDS
NaOtBu
P2-Et
8 Pd Catalysts
2 Strong Bases Kit
HCK1004-01-012
DavePhosG2
JackiePhosG2
JosiPhosG2
P(t-Bu)3PhosG4
PCy3G4
RockPhosG3
SPhosG3
XantPhosG3
LHMDS
NaOtBu
8 Pd Catalysts
3 Strong Bases Kit
HCK1004-01-013
DavePhosG2
JackiePhosG2
JosiPhosG2
P(t-Bu)3PhosG4
PCy3G4
RockPhosG3
SPhosG3
XantPhosG3
LHMDS
NaOtBu
P2-Et